I have been planning this recipe in my mind for awhile, tweeking it, going back and forth the small details I wanted to complete it. And then, as I spotted this month's spiked ingredient...I knew. For whatever reason, this was the first recipe idea that popped into my mind when deciding what I should make for the contest.
I was intrigued as to how the spice of the rum would play off the sweetness of the banana and the caramel...and it was love at first bite. And...I make that declaration while simultaneously pointing out that I am not the biggest banana fan. Actually, I just lied. I am the antithesis of a banana fan, But for whatever reason, I seemed to enjoy them in this dish.
I can say that truthfully because I may be eating the left overs as I write this. It is late. It was only fair I have it as dessert to give you another option instead of just brunch..which was how this was devoured the first go round. and, uh, I may have added a big ole scoop of coffee ice cream.
Ingredients
8-10 slices of bread(cubed)
cut the bread into cubes and place in a baking dish(make sure to butter or spray with non stick) Sprinkle bananas throughout and on top. In a separate bowl, whisk together eggs, milk, rum and 1 tbsp of caramel sauce. Pour over bread. I like to use the tips of my fingers to press the bread down to make sure all of it is submerged in the egg mixture. Cover and place in fridge overnight(or at least 8 hours) Keep in mind it will rise when it bakes, so only fill the dish about 3/4 way full. Sometimes, there is liquid left over, if so, I save it and pour it over the bread in morning, right before I pop into oven.
preheat oven to 350 and bake for 30-45 minutes or until baked through. The bottom should be creamy and the top crispy. Top with caramel sauce.
Here are a few tips for making your best version of this dessert.
For this particular one, I used this yummy bread.
It made it sweeter, so if you want to minimize that, use any bread you want. These slices are small, if you choose a different bread, you may not need as many slices.
I used flavored coffee creamer instead of milk. It gives it a creamier texture than just regular milk. I almost always substitute flavored creamer for milk when I am making a sweet dish.
I love using them to make puddings also. You can change in boring old vanilla or cheesecake into multiple flavors. Flavored coffee creamers may be one of my favorite ingredients...except in coffee. I hate coffee. My husband still doesn't understand;) and yes, you did read the part about me adding coffee ice cream earlier...and no, I don't always make sense. I am aware..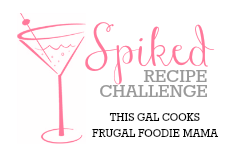 Linking up for the Spiked Challenge with This Gal Cooks and Frugal Foodie Mama